---
You may create your character without use the same number. The character's appeal will increase as well as leveling up. You may get more merchandising offers.
You need to use only Designer for creating a character.
Top Anime Character
Edit
Fave short for favorite. Only top 5 are listed. Also known as Character Faves.
There are 4 type:
Getting on the list will increase the character's market value.
Character Info
Edit
The maximum level is 5.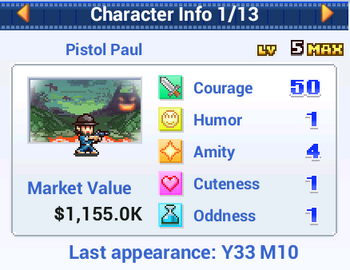 When viewing, you may see the info of:
Name of Character
Level of Character
Recent Setting with Head and Body
Market Value
Courage
Humor
Amity
Cuteness
Oddness
Last Appearance
Default Character
Edit
Pistol Paul
Judo Girl
Match Girl
Lil Georgie
Flute Man
Anime character popularity rankings are based on online surveys.
You may create a character up to 16 as well as available slots
You need to choose a character when the progress is 40% then 80% for screening with staff.